Digital Luxury Marketing: The Major Digital Brand-Consumer-Touchpoints
1. Luxury & Digital
Luxury and digital was no love at first sight. About a decade ago, most luxury brands were still reluctant towards online communication and sales (Geerts, 2013). Along with advancing technology and changing consumer habits, the tides have turned: numerous big luxury houses such as Chanel have embraced digital communication, and several other iconic brands such as Louis Vuitton and Tiffany even actively engage in online sales. But the trend toward digitalization does not stop online: innovators such as Burberry enrich their classical retail outlets with digital experiences. However, despite the digital gold rush, big parts of luxury brands still have not fully arrived in the digital world. Their sentiment increasingly shifts from "Do we need to be online?" to the more complicated questions: "How do we actually do it right?" and "How can we make better use of the digital opportunities?" This section provides luxury marketers with an overview of the major digital luxury brand-consumer touchpoints and with recommendations of how to tackle the digital channels successfully.
2. Categorization of Digital Luxury Brand-Consumer Touchpoints
Based on expert interviews, we developed a categorization of the major working areas of digital luxury marketing. Although they can be overlapping, interview partners perceive these categories to be separate digital working areas. As illustrated in the figure below, they represent along with their sub-categories also the major digital luxury brand-consumer touchpoints. They are arranged in a way that the distance from the website tends to indicate a company's level of control on a touchpoint, which is decreasing from company-driven (owned channels), to consumer-driven (social channels) and third party-driven platforms (paid channels). Subsequently, we will discuss each of the major working areas.
Digital Luxury Brand Consumer Touchpoints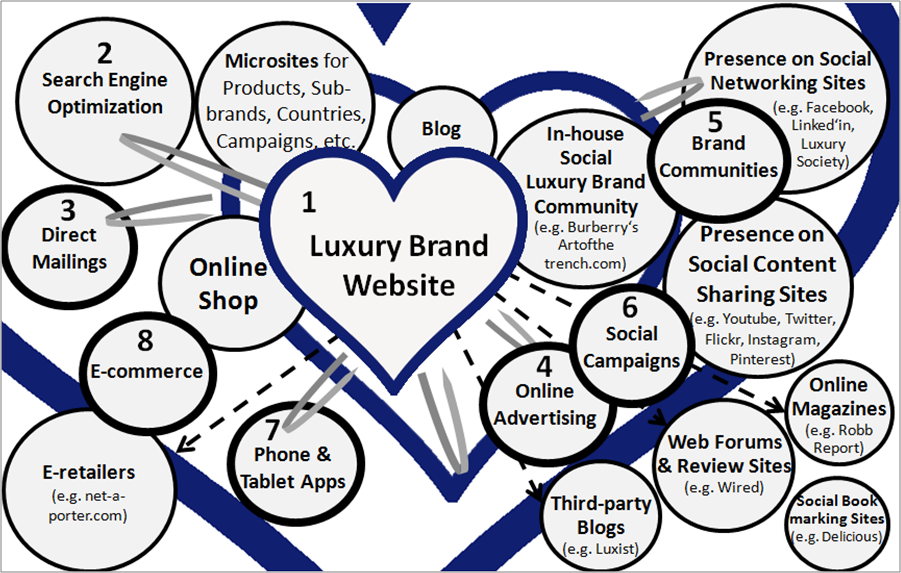 Source: Heine, K. & Berghaus, Benjamin (2014) Luxury Goes Digital: How to Tackle the Digital Luxury Brand-Consumer Touchpoints. Journal of Global Fashion Marketing 5(3): 223-234.
1.1. Working Area Luxury Brand Website
The website represents the heart of a luxury brand's digital presence. Executives of the panel agree that it is the first stop of most affluent consumers when they search information about a brand. Luxury consumers have high expectations of luxury websites, especially with regard to its aesthetics (Dall' Olmo Riley and Lacroix, 2003). Above all, the website is a brand-building tool that reflects a brand's vision and stories. In its simplest form, it serves primarily as a digital business card. Small companies such as the high-fashion start-up Achtland just provide an overview of typical areas of interest: their products & collections, brand story, references & press clippings, retailers and contact details. With more available resources, the website can be developed into a digital hub, which comprises micro-pages for certain products, sub-brands, countries or campaigns, and it may also incorporate a blog, an in-house social brand community, and an online shop (see figure).
Chanel.com was mentioned by the panelists as a benchmark for a digital hub in the luxury segment. The website gives a clear overview of the typical areas of interest and links to micro-pages for all Chanel product categories, to the blog "Chanel News" and to the Chanel presence on SNS platforms. Chanel's brand identity is explained in the section "Chanel Inside" by a series of videos, which reflect prime examples of powerful brand storytelling. According to Fog, Budtz, and Yajaboylu (2005), brand stories can be derived from several sources including the company's founder, the CEO, employees, company milestones, opinion leaders in and around the business, working partners, customers, and the products. Chanel makes use of many of these sources, for instance, with short movies about the N°5 perfume, its famous customer Marilyn Monroe, the founder Coco and the artistic director Karl Lagerfeld. In "Chapter 5: Coco" the life and vision of the founder is explained in a very comprehensible manner with many facts and anecdotes in just three minutes. Besides high quality resolution and high definition sound, the film impresses with a wealth of hand-drawn black and white animations that comprise a variety of Chanel brand symbols. These films teach viewers about the history and identity of the brand; they are entertaining and – almost like art – they captivate users by their beauty and sophistication. Other role models mentioned by the panelists include the digital hubs of Dunhill and especially of Hermès, which provides a creative playground to experience its philosophy.
2.2. Working Area Search Engine Optimization
Very much related to the website is the working area of Search Engine Optimization (SEO), which aims increasing website traffic by improving its visibility on popular search engines. According to the growing relevance of the Chinese luxury market, Galoway and Mullen (2010) suggest to extent SEO also to the Chinese web and especially to Baidu, the Chinese equivalent to Google. However, as many still neglect SEO in China, only about 40% of Western prestige brands come up first on Baidu when searching for their English brand names.
2.3. Working Area Direct Mailings
Direct Mailings are already seen as a classical digital marketing tool, which is not really exciting anymore, but still a potentially efficient opportunity of customer relationship management that should not be missed. The rationale behind regular mailings is that the more touchpoints a brand creates, the more memorable and familiar it becomes to consumers (Colliander, and Dahlén, 2011). To increase the chance that subscribers receive relevant information, Chanel allows users when they register for the newsletter to select the product categories they are most interested in.
2.4. Working Area Online Advertising
While the website takes on a rather defensive role as a digital entrée, online advertising is seen by the panelists as a more aggressive customer acquisition instrument on channels "where the target audience hangs out". A role model of online advertising provides the BMW Jumping Jack campaign for its xDrive models. It relies on the consumer insight that most people believe the different four-wheel drive systems to be basically interchangeable. However, BMW xDrive does not allocate the motor power evenly like other drive systems, but flexible to the wheels depending on where it is needed. Instead of using the usual images of mountains and streets, BMW and its agency looked for an analogy to the innovative xDrive approach and found it in a jumping jack that is moving his four extremities not as commonly expected, but independently of one another. The campaign included banner adverts in several online magazines, which show a jumping jack with an invitation to pull on it with the mouse. Many people could not resist the temptation. Depending on the website, click rates were between twice and even four times as high as compared to other automobile banner ads. Thus, online advertising is more than a classical communication instrument that was transferred to the digital domain. The example of BMW shows that it can be combined with viral marketing strategies. This means that companies should not concentrate their spending on communicating a message to the consumers, but on setting-up a creative campaign, which provides a benefit to the target groups and therefore motivates them to spread the message to others (Chu and Kim, 2011).
2.5. Working Area Brand Communities
Muniz, Albert, and O'Guinn (2001) introduced the idea of a brand community as "a specialized, non-geographically bound community, based on a structured set of social relations among admirers of a brand." An online brand community is created by setting up a profile on a SNS such as Facebook or by developing an in-house brand community platform, which is integrated into the brand's digital hub (Kim and Ko, 2010). One of the most well-known in-house luxury brand communities is Burberry's theartofthetrench.com, which may go down in digital luxury marketing history. It encourages consumers to share their own trench coat stories and to post pictures of them wearing the iconic coat. Burberry regularly selects its favorites from these submitted images to post them onto the front site, creating a body of images reflecting personal style from across the globe (Phan, Thomas, Heine, 2011). Brand communities can also be developed to target a brand's sub-segment. For instance, Mercedes attempts to interact with Generation Y consumers with its generationbenz.com private community. Another especially inspiring case of a luxury brand community provides Lancôme (as outlined in the original paper).
2.6. Working Area Social Campaigns
Social content communities facilitate storage and sharing of media content (Zarrella, 2010). According to the panel, the most important social content communities for luxury brands include Twitter and You Tube, while only very few brands use newcomers such as Pinterest and Instagram. As a prerequisite to make use of these communities, luxury brands need content and stories. An interview partner emphasized the risk to say a lot, but nothing: "I think being too glib about what you do is very tempting because the speed and accessibility online means that you can create too much noise without saying anything." Therefore, content development is a major task of digital luxury marketing. Its growing relevance is reflected by the decision of some luxury brands such as Rolex to create a new type of management position: the creative content director.
Content is usually created in the form of campaigns. For instance, Lagerfeld shot a series of 113 eccentric photos of iconic people wearing the iconic Chanel jacket, which were assembled to the "Little Black Jacket" art exhibition. It was shown in major cities around the world and provided fresh content for Chanel's digital channels: Pictures and movies of the opening parties were communicated on Chanel's social content pages on Facebook, Youtube, Google+ and Twitter and also on the "Chanel News" blog and the campaign's micro-page on chanel.com. This created some social buzz in the form of likes, comments and shares. Even more, the entire exhibition can be experienced in the first digital museum on Chanel's e-experience micro-page. Like in a real museum, visitors can go from room to room, while they hear the sound of other people walking around in a mysterious atmosphere. The campaign reflects Chanel's high cultural capital and its role as a tastemaker. It shows that marketers should not just enter social channels only for the sake of being there and then to wonder, separate for each content community, what to do there. Instead, they should understand digital channels as an enrichment of the marketer's toolbox and develop an overall digital strategy as part of their brand management. By considering it as a strategic issue, digital marketing naturally requires top management involvement. Totally at ease with the digital revolution, Chanel also illustrates with the Little Black Jacket campaign the benefits of integrating digital and classical communication channels: While they reward their existing top-customers with invitations to prestigious events, they reach out especially to potential new customers on the digital channels. When Chanel spreads the same content pretty much in the same way over all its content communities, the selection of social channels still has to fit with the brand identity (Galoway and Mullen, 2010), but from a cost perspective it does not make a big difference to manage the one or the other content community more or less. Some brands adapt more to specific characteristics of content communities. For instance, OscarPRGirl reports on Twitter frequently the latest news from the front line of the luxury fashion business and, of course, about Oscar de la Renta. In that way, the brand creates a benefit for friends of fashion and attracted already about 270,000 subscribers.
Besides creating some social buzz, Chanel does not respond to comments about their content. Generally, the majority of organizations in our study still use the new digital platforms predominantly to broadcast information to consumers in a classical understanding of marketing. However, one of the interview partners described how social media enriches the relationship to their clients: ˮUsually our design team or even I will initiate conversations on our blog. If somebody makes a comment, one to three of our people will pick it up. Comments go through to the design department directly. In that way, product development tends to become a much more organic process." Comments are not only handled by some agency, but by dedicated staff affected by the comments. This highlights the fact that social media is above all an attitude, which allows generating valuable consumer insights and improving customer relations. Altough Fuchs et al. (2013) advice against user-designed product development in luxury fashion and despite the challenge for big brands in handling comments from even hundreds of thousands of users, there is still much unused potential for luxury brands in generating real interactions with their (potential) consumers (Di Benedetto, 2012). Smaller, family-run luxury companies may have a natural advantage in harnessing this potential. However, some big players such as Gucci turn their Facebook presence from a one-way communication channel into a real community as they actually start interactions, initiate user participation and reply to user comments.
Besides brand-consumer interactions, content communities encourage communication among consumers. When they think about "doing social media", marketers must consider that the digital world is already having a discussion about their brand – with or without them. Of course, a brand can never fully control this discussion, but social campaigns should still aim at maximizing (favorable) consumer-to-consumer communication and coverage on third-party platforms such as blogs (e.g. Luxist), web forums & review sites (e.g. Wired) and online magazines (e.g. Robb Report online; Colliander and Dahlén, 2011). Keller and Fay (2012) believe that "the most effective advertising is advertising that gets people talking." As illustrated also by the example of BMW, spreading a message is not only a question of media spending, but of the message itself and its ability to trigger conversation and engagement. As shown by various studies, the relevance of consumer-driven and third-party touchpoints stems from the fact that purchase decisions are highly influenced by independent third-party reviews and even more by word-of-mouth recommendations from family and friends (Court et al., 2009). Source credibility is one of the most prominent factors in persuasion: Instead of self-promotion, psychologists recommend business people to get someone else to speak on their behalf as this is by far more effective to persuade people of their expertise (Cialdini, 2008). As bloggers are closer to the category of friends, Colliander and Dahlén (2011) found that blogs exhibit superior publicity effectiveness as compared to online magazines.
2.7. Working Area Phone & Tablet Apps
According to the panel, apps are "hot". However, the "Gucci Style App" shows that it is not enough to jump on the app bandwagon with some half-hearted development. In online forums, many users complain about this app as being not much more than a boring product catalogue, which often even crashes. As such apps do not reflect superior luxury quality, they most likely do more harm than good for a brand. Whatever you do in luxury, you should do it right. Hermès followed this principle and took the time it needs to create its first app "Silk Knots", which allows users to learn how to tie their scarves. It leads users through various different knotting techniques with playful and easily comprehensible step-by-step video tutorials. For many consumers who were challenged with the art of tying knots, the app creates a real benefit and at the same time, it perfectly fits to the brand identity as Hermès is probably one of the most credible and trusted sources for fashionable scarf accessorizing. The app will evolve over time with a new knotting style added every season. Hermès was opening a pop-up "Silk Bar" concept store with a retro American diner theme and big neon Hermès signs in New York to celebrate the release of this app and to create social buzz. Tablet apps are increasingly used also as sales person support at the point of sale (POS). POS tablet apps may delight technological enthusiasts, but they also reflect the risk of over-digitalization.
2.8. Working Area E-commerce
E-commerce still splits the panel with about a quarter of executives being very hesitant and others who embrace the idea of selling luxury online, and some who even succeeded in reaching ambitious e-commerce goals. The critical managers prefer to rely in their distribution on truly personal relationships. Cailleux, Mignot, and Kapferer (2008) summarize the special customer care habits in well-established and often family-run luxury boutiques as the shopkeeper's benchmark, which marks the gold standard for luxury brands in establishing close and personal customer relations. Brands such as Chanel (fashion) exploit digital channels for brand management, but ultimately to direct consumers into their boutiques. They believe that fashion e-tailing cannot comply (yet) with the shopkeeper's benchmark. Astley Clarke, on the other hand, is a pioneer in luxury e-commerce. According to their website, they envision building an online luxury brand that "represents all that is good and proper about British luxury". Since 2006, they developed from a multi-brand jewelry e-tailer into a high-growth luxury jewelry brand with own collections. The founder Bec Astley Clarke believes that a key to their success is their extensive personal shopper program that provides immediate assistance to customers: "We made a big point of always having the telephone number on the homepage and we actively welcomed people calling and interacting with the business. People seem to engage with the brand" (Kansara, 2013). Astley Clarke brings e-commerce closer to the shopkeeper's benchmark and shows that "being taken care of" does not need to feel less personal in digital interactions.
Source: An excerpt from Heine, K. & Berghaus, Benjamin (2014) Luxury Goes Digital: How to Tackle the Digital Luxury Brand-Consumer Touchpoints. Journal of Global Fashion Marketing 5(3): 223-234.