The Mystique of Luxury Brands Conference, Shanghai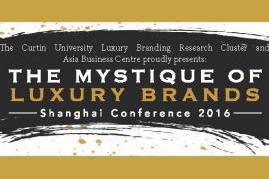 Conference co-organization: The two-day conference explored contemporary issues and innovative research in the area of luxury branding management. Bringing together over 100 industry and academic presenters specializing in the area of luxury branding, this conference served as a platform for sharing research ideas, findings and insights within the luxury branding area - and between industry and academia.
Visit the conference page.
Venue: The Majesty Plaza in Shanghai, China
Date: 12 - 13 May 2016
CONFERENCE CO-CHAIRS
Curtin Business School: Ian Phau & Richard Francis
EMLYON Business School: Michel Phan & Klaus Heine

Message from the Conference Co-Chairs
Ian Phau, Richard Francis, Michel Phan & Klaus Heine
Dear Esteemed Guests, Colleagues, and Friends,
On behalf of Curtin University's Asia Business Centre and Luxury Branding Research Cluster, as well as Emlyon Business School's Lifestyle and Consumption Cluster, we wish you a very warm welcome to the "Mystique of Luxury Brands Conference 2016."
The basic idea of this conference is to bring together the worlds of luxury business and academia – to share, debate and learn from one another. We are pleased to welcome leading industry professionals as well as academics from 17 different countries and 40 different universities. We see great potential in promoting the transfer of knowledge between different fields of expertise and different industries, so that, for instance, luxury fashion brands can learn from vineyards and hotels from jewelry brands. With this conference, we want to strengthen the links between education, science and entrepreneurship.
The conference takes place in a very interesting period. In the early 1990s, the luxury market in China started from absolute ground zero; a time when many of the market leaders of today were virtually unknown. Nowadays, China is considered as the worlds most important and influential luxury market by many luxury brands. Furthermore, the Chinese government is taking more and more steps to shift the country's economic orientation from low-end production to the higher-end and creative industries. In doing so, this may help drive the growth of the future luxury market in China, which can rely on a strong culturally rooted appetite for luxury.
The luxury industry in China can look back to a golden past and also forward into a bright future. However, at this juncture, the industry is in the midst of fundamental changes which include political shifts with new legislation, economic uncertainties, and societal changes with shifting consumer trends towards more understated, more value-creative and also more Chinese luxury. The (just recent) times are gone when many luxury brands just had to open their boutique's doors to grow in China. Now they feel a strong need for new inspiration and innovative strategies to regain growth in this ever-evolving market – and that's the aim of this conference to explore.
The first day will centre on three key topics that may help luxury brands in China to regain growth, with discussions between leading industry practitioners and academics. First, entrepreneurship and intrapreneurship will be discussed in relation to the development of innovative strategies and business models that fit the new market realities. However, some answers may be found also in the past, by rediscovering the mystique of real luxury brands. Second, we will address strategies to identify and understand Chinese consumer insights as many brands realized that it becomes crucial for their survival to better understand Chinese consumers and to adapt to their specific needs. And finally, we concentrate on the art of customer relationship management to build more stable ties to customers in unstable times. These discussions will be further facilitated by a networking lunch and charity gala dinner.
The second day will comprise academic presentations featuring a range of research topics including fashion marketing, premium luxury branding, sustainability, counterfeits, global challenges to the industry, and luxury branding communications. The conference closes with a sundowner and awards session to acknowledge the best papers as well as all the participants for their outstanding efforts.
We encourage you to actively participate in as many sessions as possible to help others see things that they would not have otherwise seen without your contribution. Your participation in this conference is highly appreciated and we would like to convey our deepest gratitude for this!
At this point in time, there is no better place to discuss "luxury" as we are here in the heart of THE most important luxury market, THE luxury market of the future and likely, THE most challenging luxury market in the world – Welcome to the conference and to Shanghai, the hub of luxury, the arts and fashion!
Ian Phau, Richard Francis, Michel Phan & Klaus Heine