Special Issue on Luxury Branding coming out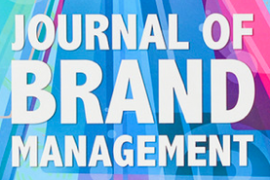 A Luxury Branding special issue for publication as issue 25.5 of Journal of Brand Management edited by Prof. Michel Gutsatz and me is coming out soon.
Here the articles:
Editorial
Is Luxury Expensive? (Michel Gutsatz, Kedge Business School, France and Klaus Heine, emylon business school, China)
The impact of increased brand penetration on luxury desirability: a dual effect (Jean-Noël Kapferer, INSEEC Business School, France and Pierre Valette-Florence, IAE Business School in Grenoble, France)
Cross-gender extension potential of luxury brands: A semiotic analysis (Nathalie Veg-Sala, University of Paris Nanterre, France; Elyette Roux, Aix Marseille University, France)
Visual Communication of Luxury Fashion Brands on Social Media: Effects of Visual Complexity and Brand Familiarity (Jung Eun Lee, Virginia Tech, USA; Songyee Hur, University of Tennessee, USA; Brandi Watkins, Virginia Tech, USA)
Coopetition in the French luxury industry: Five cases of brand-building by suppliers of luxury brands (Colette Depeyre, Université Paris-Dauphine; Emmanuelle Rigaud, NEOMA Business School, France; Fabien Seraidarian, Université Paris Saclay)
Personality-Driven Luxury Brand Management (Klaus Heine, emlyon business school, China; Sandrine Crener Ricard, Harvard Business School, USA; Glyn Atwal, Burgundy School of Business, France; Michel Phan, emlyon business school, France)
Gutsatz, M. and Heine, K. (2018) Luxury brand-building and development: new global challenges, new business models; Editorial, Luxury Branding Special Issue, Journal of Brand Management, 25(5): 409-411, read online.