Global Marketing Conference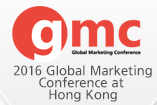 This is a call for conceptual and empirical contributions for my track chair on "Luxury Brand-Building" at the Global Marketing Conference in Hong Kong.
Read the full call for papers of the conference here (as PDF). More information about the program you can find here.
Please feel free to get in touch with me before submission to discuss ideas.
Best regards
Klaus Heine
Further information:
Venue : Conrad Hong Kong, Hong Kong
Date : July 21-24, 2016
Conference Theme : Bridging Asia and the World: Global Platform for Interface between Marketing and Management
Extended Submission Deadline : 31 Mrach 2016